Metal crafting is a useful skill. Not only will you be able to make ornaments and fittings, but you can also be expert enough to repair any broken metal parts at home. Besides, once you become an expert, the sky is the limit. You can create anything from lamp holders, door hinges, kitchen knives, to swords.
And luckily for you, today's technology has made metal fabricating way easier than it used to be. Tools have become much smaller and handier. And software like AutoCAD and SolidWorks enable the worker to achieve excellent accuracy and precision on their work. Intricacy no longer requires industrial-scale machinery. And on this occasion, we will learn three high-tech tools that every metal artisans must have.
Welder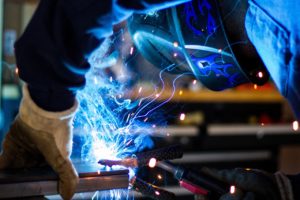 A versatile welding machine will give an artisan much advantage. First, welding is the core of metal-crafting. If you happen to hear this term for the first time, it is a process of heating metals to their melting point so that they can be put together. Once you master this skill, you will be capable enough to make useful things like metal tables, racks, metal bookshelves, trellis, tote trays, etc.
To get the right welder, you have to pick your welding method first. Arc welding and MIG (Metal Inert Gas) are the most suitable methods for beginners. And once you become expert enough, you can learn the TIG (Tungsten Inert Gas) method. Each method requires different types of welders. And since technology develops every day, reading up to date reviews on welders is necessary before you purchase one.
Another factor to bear in mind is that buying a welder will be your primary investment in metalworking. Therefore, please get yourself a decent machine with a long life expectancy, easy-to-find spare parts, and a stable secondhand price.
Nibbler
A nibbler is a versatile cutting tool for metal sheet without causing any deformation on it. There are two types of nibblers: electric and pneumatic.
Here are the specs for the electric nibblers:
600 to 800 W power
Speed variation
Maximum cutting capacity of 4 mm for steel sheet and 2.5 mm for stainless steel sheet
Cutting width ranges from 3 mm to 8 mm
A cutting speed of 2500 cps/min and is rotatable 360°
And here are for the pneumatic:
Continuous cutting capacity up to 1.5 mm for metal
Equipped with a regulator
An ergonomic trigger for maximum flexibility
Interchangeable die and punch
Beginners are supposed to use the electric type because it is cheaper than the pneumatic. You can use the latter after at least 5 to 10 successful projects.
Bandsaw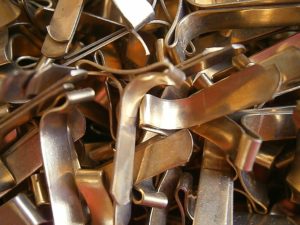 You may see many metal artisans use a handheld saw or a cutoff machine. However, the chances are that their skill has been advanced enough to use those tools. Bandsaw is on this article because it the safest compared to the other metal cutting machines.
First, you have to calculate the space in your workshop. A bandsaw is quite a large machine. And to use it safely, you must have enough room so that you can move around conveniently. Second, most bandsaw models can cut through wood and metal materials. It would be better for you to choose a bandsaw of top quality, such as WEN 3970, Klutch Benchtop, Grizzly G0622, or JET HVBS-7MW.